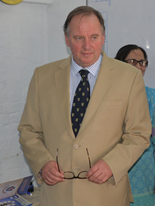 Michael Thomson is the 18th Principal of Aitchison College. With extensive experience in international education and a strong boarding background, he believes in a broad and challenging school experience for every boy.
"While the College will always produce outstanding academic results, we do not measure boys by grades alone. We place the importance of self-discipline, community, integrity and effort at the heart of everything we do."
CONTACT:
All appointments with the Principal must be pre-arranged with his office (pa.principal@aitchison.edu.pk) and with the purpose of the visit clearly stated.
Contact Details:
UAN [92 42] 111 363 063
Fax: [92 42] 3636 2989
Email: principal@aitchison.edu.pk