Aitchison's tour to England was a resounding success. All the hard work put in by the squad of 15 players, Director of Cricket Jon Wright and Ist XI coach Mohammed Riaz bore fruit through six well contested matches against 5 top English schools and a South African cricket academy over ten days. The fact that we enjoyed superb June weather certainly aided our cause and allowed the boys to play on generally well prepared and hard wickets. All of this is easy to say in hindsight, but if someone had told me before the squad left Lahore that we would win five of the six matches (and very nearly all), I would have raised an eyebrow. Certainly there was a general feeling that we had a special team that had dominated Lahore cricket, but could it mix it with the best in England? Would we cope with the demands of touring? Would coming straight from Ramzan into the heart of English competition leave us short of match practice and fitness? The answer is revealed in a summary of each match.
June 22 versus St Edwards College, Oxford. Won by St Edwards College
Our first fixture was against possibly the best schoolboy side in southern England –a tough assignment. St Edwards College or 'Teddies' boasted several fine players among whom were the U19 English openers. They had just come off posting a massive 500 runs in 50 overs against Marlborough College the week before. Batting first their openers posted 222 runs in 34 overs before the loss of a wicket. Several missed chances along the way added to our woes, and in a 50 over game we faced the prospect of chasing another huge total. And yet we managed to pull back the run rate to restrict 'Teddies' to 4 for 299 at the close. The pick of our bowlers was young Zain Sukhera. His flight and guile proved vital in the fight back. Our batting was aggressive from the start. Despite losing Mustafa Asim early, Hasnaat Abbas (37) and Ibtesam-ul-Haq (63), Naail Dar (22) and young Abuzar Memon (31) got us to an excellent 4 for 166 off 30 overs and on course for a win. Not to be denied, Ben Charles produced an inspired 3 overs of fast reverse swing bowling to send three wickets back to the pavilion in 3 overs. We never recovered. Captain Ali Raheel (32) and Ibrahim Ayub (18) held the tail together to push us to a respectable 239 all out. This was a loss that would teach us a great deal.
June 23 versus Oratory School and South African Leopards Academy at Oratory School, Reading. Won by Aitchison College
Oratory School arranged a triangular T 20 tournament and our first match was against the South African 'Leopards.' Sent in to bat the Leopards were soon in trouble. A change of tactics had our spinners using the new ball and Dar and Ibtesam-ul-Haq took wickets and kept the run rate under 3 an over until a final over recovery of 28 runs pushed the Leopards from 4 for 110 to 4 for 139. Game on! Naail Dar looked solid making 19 opening, but it was Hasnaat (38) and Ibtesam-ul-Haq (69) who put the match beyond doubt. We reached the required 140 in 18 overs to record our first victory.
Playing Oratory was the first signs of greater things to come. While Ali Raheel's 51 not out was a fine captain's knock, Naaill Dar posted a memorable 101 that launched us to a total of 196 runs. Faridoun Jaffri was the best of our bowlers taking 2 for 23, but consistent line and length restricted Oratory to 96 runs. This victory secured us the tournament victory.
June 25 versus Marlborough College, Marlborough. Won by Aitchison College
The scenic village of Marlborough and its superb school impressed everyone, as did Marlborough's hospitality in providing accommodation for our boys in boarding, and the principal staying as the guest of the Master Mr. Jonathan Leigh. Its number 1 ground was a splendid venue overlooking the school and its rolling hills in which the school nestled. Batting first, we got off to a horror start when Mustafa Asim was bowled by a magnificent yorker. Hamza Sukera (40), Nafay Noor (15), Hasnaat Abbass (43) and Ali Raheel (39) enabled us to reach 171 runs in 31 of our allotted 35 overs. We were disappointed not to bat out the full 35 overs and knew this was something to work on in future. Hasnaat Abbass (3 wickets), Naail Dar (2 wickets), Faridoun Jaffri (1 wicket) were the pick of the bowlers that kept Marlborough always behind the run rate, ironically dismissing the home team in 31 overs for 125 runs.  This was a strong win.
June 26 versus Eton College, Windsor. Won by Aitchison College
Eton had just come off a big win against Harrow in their annual match played at Lords. They were a form side. With the honour of being assigned the Upper Club Ground (no. 1), we agreed to a 50 over match. Batting first, we continued our horror starts losing Dar and Sukhera for ducks. Ibtesam-ul-Haq and Abbass then managed to right the ship at a run a ball. As the morning wore on it became clear that Ibtesam-ul-Haq was in sublime touch. His languid power was simply breath-taking as he set about destroying Eton's attack and everything they could throw at him. Abbass, too, played a marvelous array of shots off the hip and through mid-wicket. On 37, and against the flow of play, Abbass mistimed a pull and was caught and bowled. Ibtesam-ul-Haq continued on his merry way entertaining us all to one of the best schoolboy centuries seen at Eton. The crowd gave him a standing ovation. He reached 101 ably supported by Raheel (25), Naffay Noor (16) and Mustafa Asim (31). Running Ibtesam-ul-Haq out seemed the only way Eton could dismiss him, and this is precisely what happened. We reached a commendable 220 from 48 overs, disappointed again not to bat out the 50 overs. Nevertheless, we had set Eton a good chase.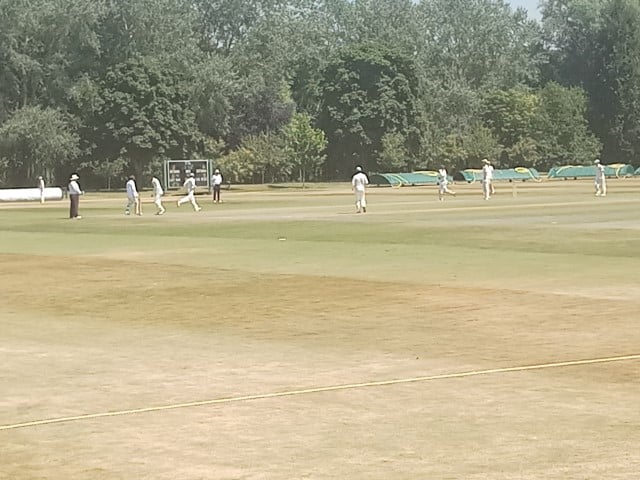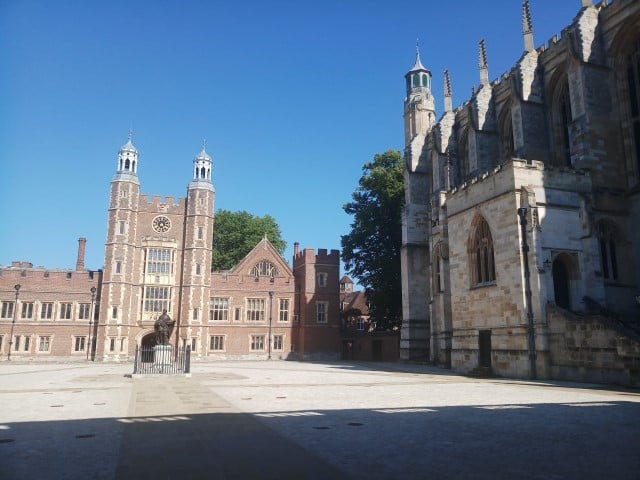 Aitchison at Eton College.
Qasim Abbass struck first ball, getting one to jag back through the gate of the Eton opener. It was the perfect start. When Dar and Hasnaat dismissed another two, Eton was 3 for 53 off 13 overs. Faridoun Jaffri and captain Raheel chimed in with dismissal on the stroke of tea to have Eton reeling at 5 for 75 off 18 overs. As one would expect, Eton came out determined to win back the momentum, and they did just that. After 37 overs they had reached 5 for 139 runs before a stumping off Raheel and a smart run out swung the match our way again. Faridoun Jaffri and Raheel kept things very tight from there on and while mathematically Eton on reaching 189 after 45 overs could sense victory still in their sights, another Faridoun wicket and a brilliant run out from the deep by Hasnaat Abbass left the 'Light Blues' in tatters. It seemed poetical that our captain would hold onto a brutal straight drive off his own bowling to secure possibly Aitchison's greatest cricket victory.
June 28 versus Wellington College, Crowthorne. Won by Aitchison College
The boys were beginning to tire a little with a few minor injuries giving cause for concern, but spirits remained high. A day off on June 27th was spent travelling to London. As we entered the glorious estate of Wellington College next day, weariness was, however, soon forgotten. Bowling first and maintaining our spin assault of Dar and Ibtesam-ul-Haq, we had Wellington on the back foot early with two batsmen returned to the pavilion in the first 4 overs for only 11 runs. Faridoun Jaffri (3 wickets), Ali Raheel (2 wickets), and Hasnaat Abbass (2 wickets) ensured that Wellington never broke free. From 5 for 73 off 28 overs Wellington battled hard to reach 159 runs all out from 49 of their allotted 50 overs. It must be said that Hasnaat Abbass' bowling was quite superb and complimented by the opposition as the best leg spin bowling they had ever faced.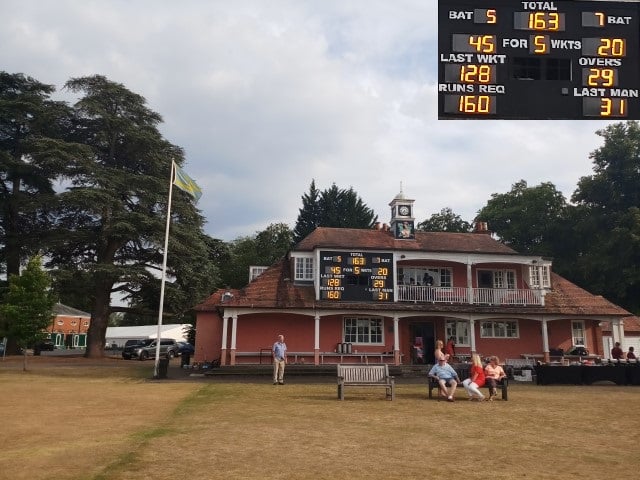 Aitchison's emphatic victory at Wellington College highlighting Hasnaat Abbass' classy 45 not out.
Our trend of starting poorly continued. Murtaza Javed was bowled and Ibtesam-ul-Haq made a rare error when he was caught in slips for a duck. At 2 for 5 runs the job was certainly in front of us. Nafay Noor plundered the Wellington attack for a few overs to reach 16 before his stumps were rattled. It was left to Hasneet Abbass (45 not out) to play an innings of great maturity to see us home, supported by Naail Dar (28), Ali Raheel (31) and Mustafa Asim (16). It was telling that Aitchison reached victory in a mere 28 overs. The pattern of a run rate of 5 per over had been a hallmark of the tour.
There is no doubt that Aitchison cricket has climbed the mountain and planted its flag firmly. I doubt if such a result has ever been matched in the history of Aitchison College. Five wins from six matches on strange wickets, says it all. Every boy contributed something to this tour and each will have gained a great deal from experiencing a different culture. Importantly, our young cricketers will have learned much and out of a squad of fifteen, thirteen will be returning next year. All boys will have memories to last a lifetime. May this be the first of many more tours to come and with the prospect of visiting teams enjoying Lahore.