AITCHISON STAFF TRIUMPH OVER ACOBA EXECUTIVE IN FIRST CRICKET TEST
Held on the MCG in perfect conditions on Sunday January 24, the Principal welcomed ACOBA great Javed Zaman as Chief Guest to toss the coin. The Staff batted first to record 5 for 159 from 25 eventful overs. Good performances from Rizwan Naz 61, Jon Wright 42 not out, Umer Zaman 21 and the Principal 21 not out, helped a lower order revival.  Nizar Zaman batted beautifully for ACOBA in making 57 with some useful support from Junaid Khawaja 19, but it was not enough and ACOBA was dismissed for 118. Umer Zaman 2 for 20,  Amin Ather 2 for 19  and the Principal 3 for 22 were the most successful bowlers. 
The Principal also took time to introduce two new honour boards placed in the Home room for Centurions and 5 wicket-takers in Aitchison and ACOBA fixtures. Among very select names, Hasnaat Abbas' immense 161 for Aitchison (2018) was remembered fondly, as was Usman Haq's 5 for 17 in 1999 for ACOBA.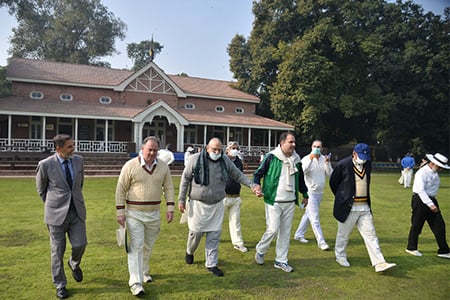 The Principal and Qasim Zaman escorted Javed Zaman to the centre wicket for the toss.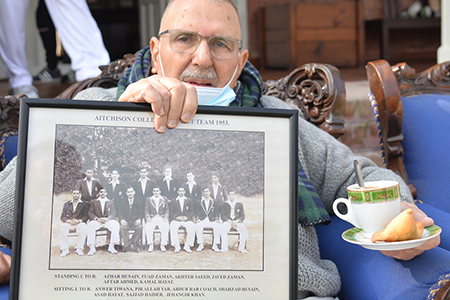 Reminiscing about the '53 Aitchison Ist XI.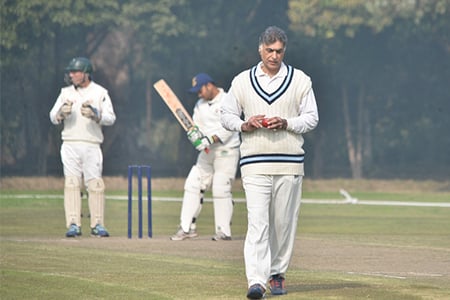 Omer Qureshi preparing to bowl to Rizwan Naz.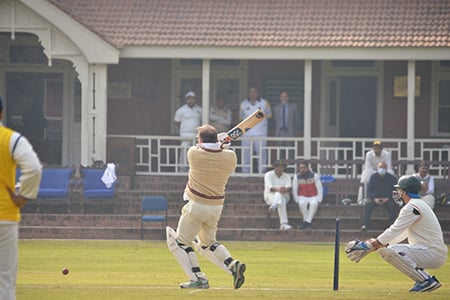 The Principal hits out.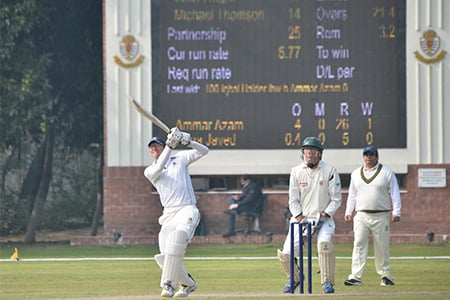 Jon Wright goes, 'All the way.'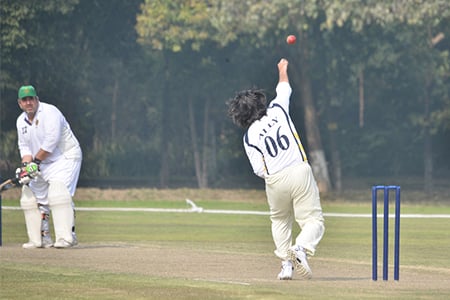 Umer Zaman on his way to 21.