May 4th, 2019
Prime Minister Visits Aitchison to Open Cricket Scoreboard
Aitchison College was in full attendance on Saturday May 4th to welcome the Honourable Prime Minister, Mr. Imran Khan. The Prime Minister was personally welcomed by the Principal upon his arrival at the Zulfiqar Block. He met the Vice Principal, Bursar and Heads of Schools at the Old Building from where he walked toward the stage beside the new cricket scoreboard at the MCG, closely accompanied by Chief Minister Punjab, Sardar Usman Buzadar, Governor Punjab, Chaudhry Muhammad Sarwar and old classmate and President of ACOBA Mr. Shahjahan Ayub. The Prime Minister received a rousing reception from boys and staff, including boys and girls from the Campus schools.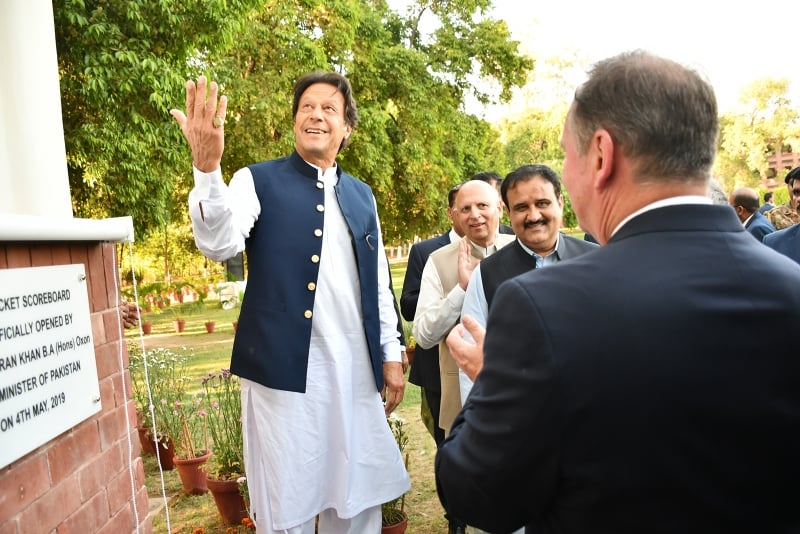 The new scoreboard played a history of the College and selected clips from the Prime Minister's victorious World Cup victory in 1992.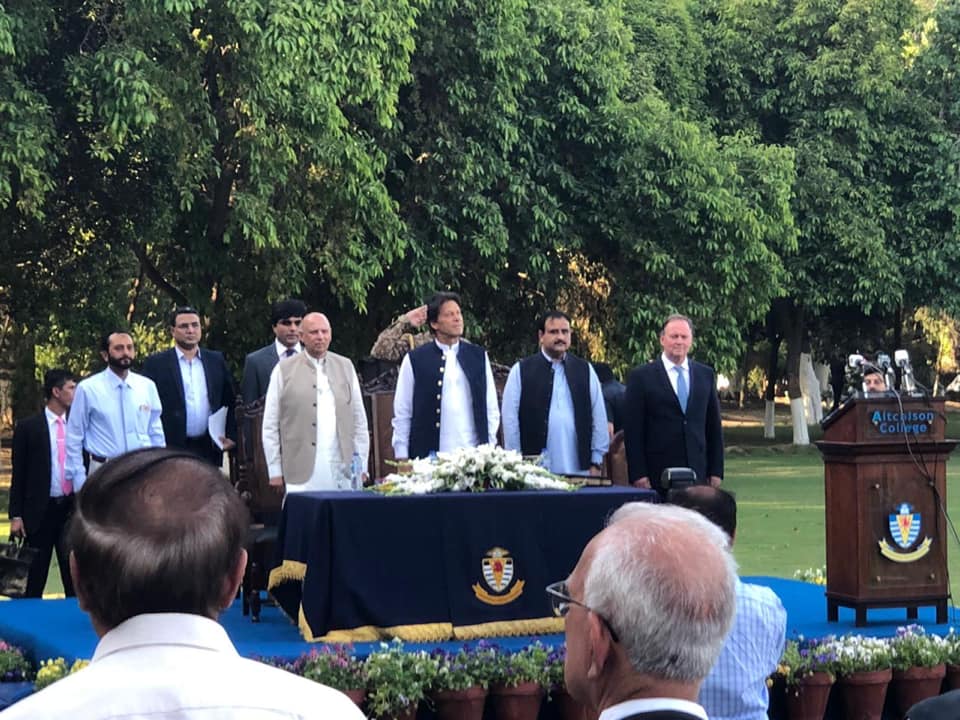 From left to right: President Board / Governor of the Punjab, Chaudhry Muhammad Sarwar, Prime Minister Pakistan, Mr. Imran Khan, Chief Minister Punjab, Sardar Usman Buzdar and Principal Aitchison College, Mr. Michael A. Thomson
The Principal welcomed the Prime Minister to his alma mater. His full speech can be viewed here. The Governor followed with a strong message of support for the College. The Prime Minister then addressed the gathering and emphasized how pleased he was to be addressing the students whom he referred to as "the future of Pakistan." The Prime Minister's speech can be viewed here. He urged the students to not waste the superb opportunities they had and spoke to them about how a person should not be measured by money but rather what they gave to their country. He looked forward to Aitchison producing more Test cricketers.
A post ceremony function was held on the Principal's Bungalow lawn with hundreds in attendance. In what will be remembered as one of the most historically significant days in the College's long history, we salute the Prime Minister and thank him for being so generous in giving time to his alma mater.