Aitchisonian receives International Recognition for his Novel
Faizan Aslam Soofi, a twelve-year-old student at Aitchison College Prep School and a prolific young writer has been recognized internationally for his young adult novel 'Instrumental Queens'. The book (45,999 plus words) has been taken/selected in libraries of Harvard University, Columbia University, Princeton University, University of Pennsylvania, University of Wisconsin - Madison, General Library System, University of California ,UC Berkeley and the Library of US Congress amongst others.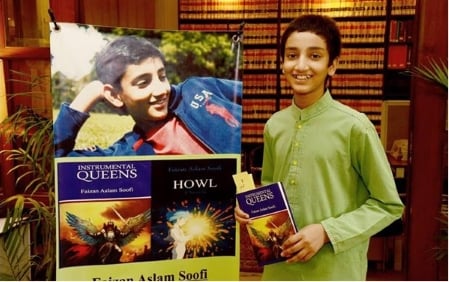 Faizan started writing short stories and poems at the age of eight, some of which have been printed in the 'Dawn'. His first complete work of prose, a novella called 'Howl' was published in 2014. The positive feedback for Howl led him to begin work on the Quotus Instruments Series. Instrumental Queens is the first book of this series.
Faizan's father, Mr. Ahmer Bilal Soofi congratulated the teachers, Head Master, the Principal and his predecessor for providing a conducive environment for Faizan's creative work. "Faizan was encouraged by special citation given to him by Head Master Mr. Amir Hussain when he wrote his first novella," he remarked.